Every family would have a favorite chocolate cake or brownie recipe in the back pocket which can always be the hit in a short notice party, special treat on a cold winter Saturday afternoon or a place in those little lunch box all year long... Here is my version super gooey rich chocolate texture with minimum effort. A slice served in warm with a scoop of Baileys ice cream, ennn... taste in heaven. Enjoy!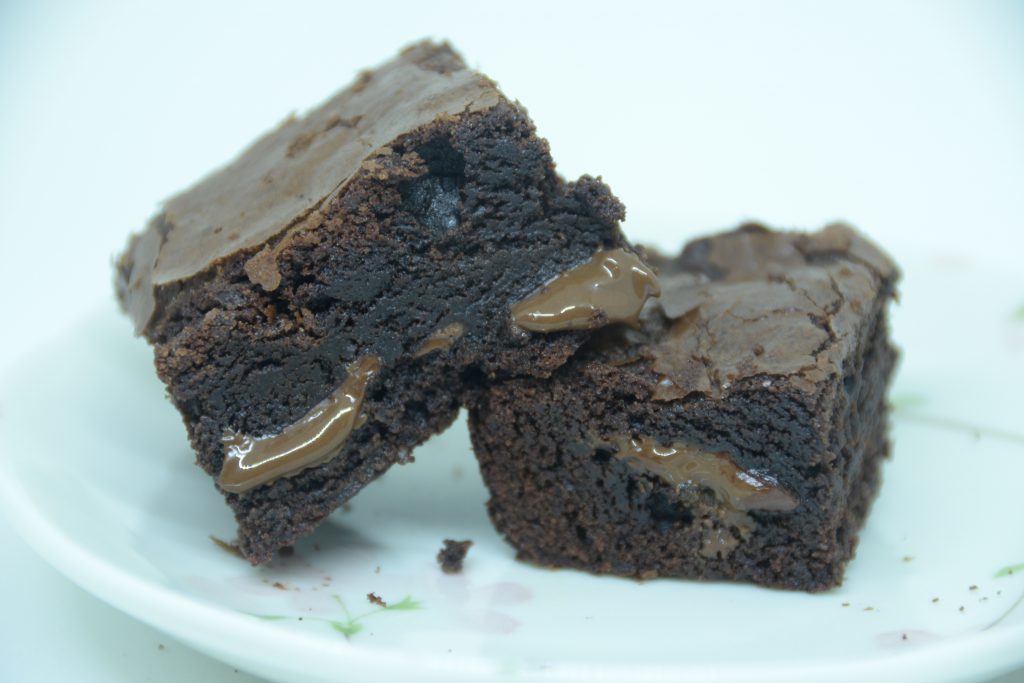 Prep Time: 5mins

Cook time: 30mins
Ingredients
Part A
120g unsalted butter, melted and cool into room temperature
1 cup white sugar
1 teaspoon vanilla extract
2 eggs room temperature
Part B
115g (3/4 cup) plain flour
30g (1/4 cup) unsweetened cocoa powder
Pinch of salt
1/4 tsp baking soda
Part C
200g (1 Cup) dark chocolate chips
1 table spoon plain flour
Instructions
Step 1
Preheat oven to 180C/160C fan forced. Grease a 20cm (base measurement) square cake pan and line with baking paper both at the bottom and side.
Step 2
In a large bowl, beat melted butter until it just starts to look lighter colour and a bit fluffy. Don't over beat it. Then add in sugar, vanilla extract continue to beat until sugar absolved completely and smooth.
Beat the eggs, one at a time into Part A mixture until thoroughly combined.
Step 3
In a second bowl, sift all ingredients from Part B mix well. Then add it into Part A mixture in 3 additions. Mix it slowly with rubber spatula, ensure all dry ingredient just combined each time.
Step 4
Toss the chocolate melts in about 1TBS of flour, and then fold into the batter.
Step 5
Pour batter into baking tray and use a rubber spatula to level off the top.
Bake for 25-30mins. Brownies are done when the central raised then fall down slightly and the edges are set. Take the baking tray out and cool down completely before cut it, as the centre may still be jiggle before it completely cool down.
Service warm with some ice cream to taste the soft chocolate central, or cold with a cup of Tea or coffee. Enjoy! 🙂
Tips:
Tossing chocolate chips in flour will prevent them all falling to the bottom of the brownies when you mix it.
Keep the left over brownie in air tight container for up to 3 days, can heat up in microwave for few seconds if you like warm and soft texture.
Use milk chocolate chips instead for sweeter tastes, or add in roasted nuts for crunchiness.